Last week, Instagram closed their open/free media API, which was the last possible way for your website to pull images from your Instagram feed onto your website. Instagram no longer approves small websites to use their API, and with this latest closure of the open/free media API endpoint, they are cutting small websites off entirely from incorporating their Instagram feeds into their site.
This affects everyone who uses our SocialGrid WordPress plugin to pull Instagram images onto their website. While Twitter and YouTube still work, unfortunately Instagram does not – and there's really nothing we can do about it.
Why would Instagram want to do this?
While we can only guess at the actual reason here, the main answer likely relates to the fact that they can't sell advertising unless their users are using their mobile app. Instagram wants to control the entire experience. This allows them to track users on their platform. Instagram can't control your website, nor can they easily track your users' behaviour, or use that tracking data to sell advertisements to them.
Instagram exists to sell advertising. It's what pays their hosting bills, and their employees that keep the app in working order. When you pull Instagram-hosted images onto your website, it's great for you and your website – but it's not great for Instagram.
They can't force you to put tracking information on your site that watches user behaviour for them. They can't run experiments on your users to see what makes them use Instagram longer per day. They can't sell advertisements. For them, it's a losing situation.
But aren't we helping Instagram by putting their images/links on our websites?
At first glance it can be confusing why Instagram would want to block this. Aren't we sending people to Instagram by having Instagram links/images on our websites?
It's important to remember that a huge technology company like Instagram watches everything. They not only watch every one of their users' behaviours, clicks, and how much time they spend using Instagram per day, they also track when your website sends users to Instagram.
By making this change, we can safely assume that Instagram has realized that small websites do not send enough traffic to Instagram to make it worth their while. They don't make these types of changes without doing a ton of research based on their user tracking. So essentially, we can safely assume that Instagram has almost nothing to gain by us putting Instagram images on our websites.
So what can we do about it?
Here at Mint Plugins, we have already updated the SocialGrid plugin to remove support for Instagram. But it still does support Twitter and YouTube – both of which are constantly expanding and encouraging use of their API. So we recommend posting your content on Twitter instead of Instagram at this time. If you are used to using Instagram instead of Twitter, you can use a great service called "If This Then That" (or IFTTT for short) to automatically post your new Instagram posts onto your Twitter as native photos. You can find them over at https://ifttt.com and set up an Applet to make this happen.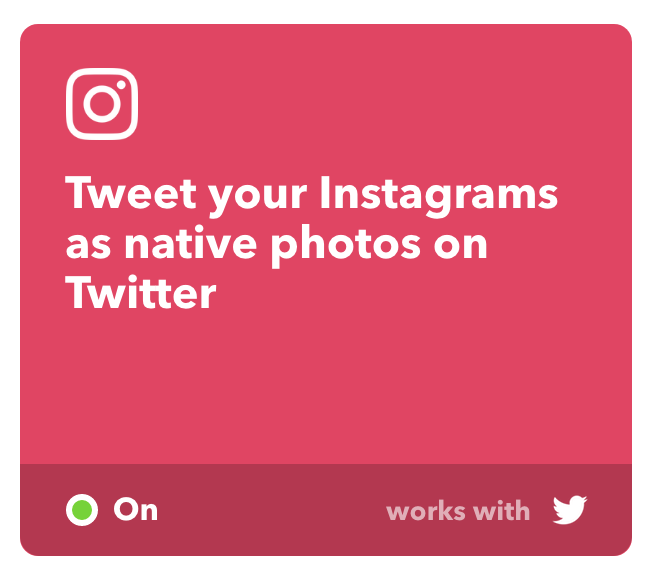 Note that this will not post your old/existing photos from Instagram onto Twitter. It will only post new photos to Twitter.
If you have any questions or comments about this change, email us at support@mintplugins.com – or leave a comment below.