Designed to show off a product or project with sleek and smooth design, Launchstack is perfect for anyone launching something new - from Kickstarter Campaigns to new Start Ups.
Built for all screen sizes.
Analytics have shown that most first-impressions of your website will be on a mobile device. Launchstack's fully responsive layout looks and works great on ANY sized screen.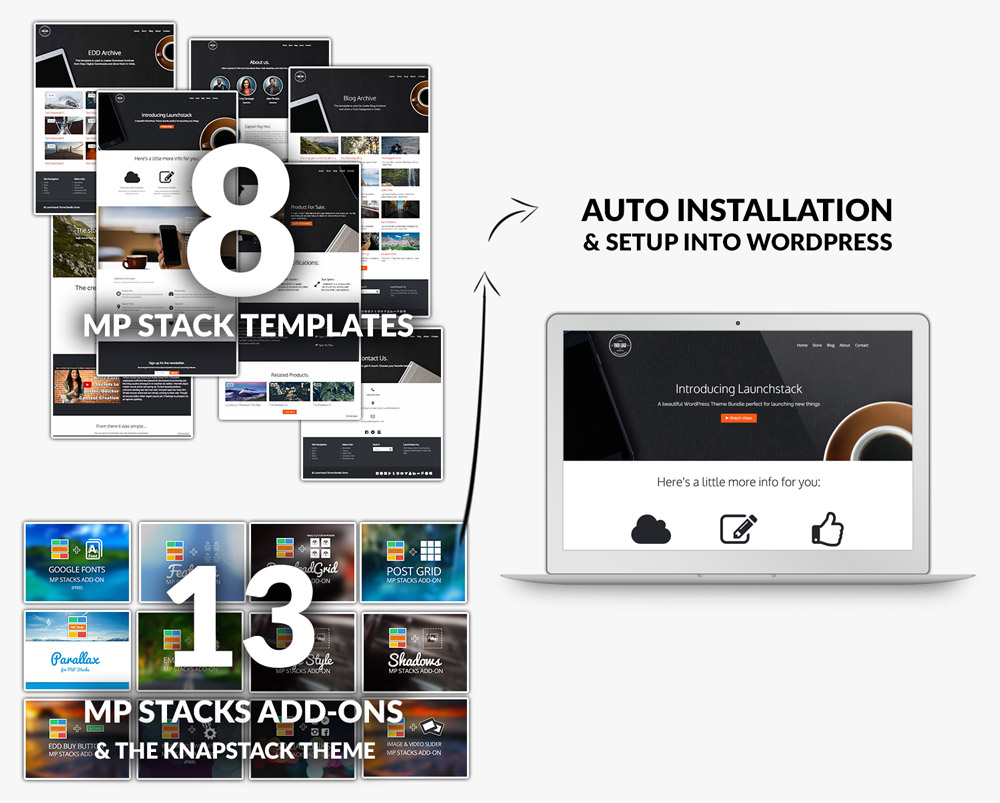 License works for an Unlimited number of Websites.
8 Stack Templates pre-styled and re-usable for any page.
MP Stacks Page-Building Plugin and 13 MP Stacks Add-Ons.
Knapstack Theme.
Auto-Installation and setup of all of the above.
Launchstack license works for ALL included plugins.
Auto-Updates & Support for ALL included plugins (1 year).
Rights to use all images seen in the demo.
Each design is completely customizable without changing any code and reusable.
We know it can be nerve-wracking to spend money without being sure if/how it will work. To help ease your mind, we have posted a tutorial of the entire setup of this Theme Bundle right here. This way, you can know exactly what you are getting into - and just how easy it is to use! We've got nothing to hide 🙂
Included in the Launchstack Theme Bundle
Easy Product "Features"
Similar to what you're reading right now, each "feature" has its own icon, title, and description.
Custom Backgrounds
Change the background color and image of any section on any page.
Custom Text Styles
Change the color, size, and even the font of the text in any section on any page.
Unlimited Fonts Per Page
Using Google Fonts, you can use a different font for every section of every page.
MailChimp Sign-Up
Integrated Mail Chimp sign-up on your homepage to help grow your mailing list!
E-Commerce Ready
Includes page templates for Easy Digital Downloads to allow you to sell online through your website instantly.
Unlimited Sliders
You can swap out any section's content for an Image/Video slider to showcase any aspect of your product - and you can do it in as many different sections as you need - even with multiples on the same page.
Unlimited Widgetized Areas
Change any section of the page into a widgetized area and show whatever you need using WordPress Widgets.
Parallax
Add a Parallax effect to any section of the page with a simple click. Set your speeds and you're good to go! Find out more about how Parallax works here.
Easy Social Links
Easily add social links to any network using the included icons - or simply upload your own custom icons if the one you're looking for isn't included. No more hassle to add your own icons!
These plugins are included with this Bundle including Auto-Updates and Full Support (1 year)
If you run into trouble we're only an email away for one-on-one help! We also have a complete support page if you're the type of person who likes to dig in and find the answers yourself.