With thousands of new churches being planted every single year, we thought it would be helpful to design and develop a WordPress theme specifically for brand new churches. That being said, we went one step further and also included features that ANY size of church can utilize. So regardless if you are a brand new church plant with 20 people or a well established mega-church with thousands - we've got you covered. Welcome to Church Plant WordPress Theme!
We have worked hard to develop a robust, responsive and mobile friendly theme without comprising flow or design. Our design and layout is what sets us apart from most Church WordPress themes - and it will be sure to do the same for you and your ministry. Whether you want to simply upload your logo and be done OR take advantage of the countless customizable options within our theme builder - the choice is yours. Either way, the result is a fresh, clean, modern theme that is sure to get your church noticed.
Built for all screen sizes.
Finally, a Wordpress theme that looks exactly like the demo when it's installed. Complete with professional, captivating photography, countless add-on features and innovative plugins, our Church Plant Theme is far beyond most other church themes on the market. This responsive, mobile-friendly and retina ready website is installed with one click which truly makes it a plug and play theme! Literally anyone can take it 'out-of-the-box' and have it up an running within minutes.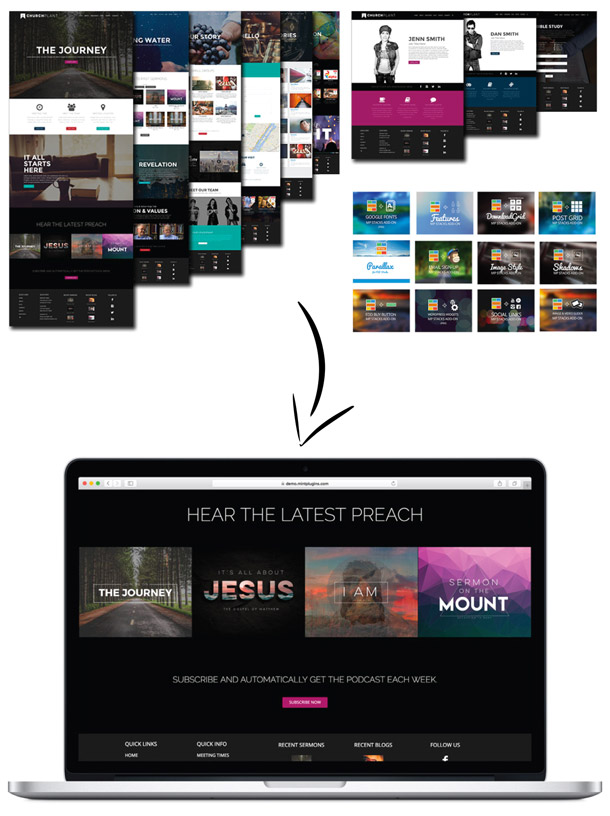 1 Incredibly Robust Theme
10 Beautifully Designed Stacks
15 Innovative Add-Ons
1 Click installation - includes all default content seen in the demo
License works for an Unlimited number of Websites
MP Stacks Page-Building Plugin
Knapstack Theme
Theme Bundle license works for ALL included plugins
Auto-Updates & Support for ALL included plugins (1 year)
Rights to use all images seen in the demo
Each design is completely customizable without changing any code and reusable.
We know it can be nerve-wracking to spend money without being sure if/how it will work. To help ease your mind, we have posted a tutorial of the entire setup of this Theme Bundle right here. This way, you can know exactly what you are getting into - and just how easy it is to use! We've got nothing to hide 🙂
Included in the Church Plant Theme Bundle
Responsive & Retina Ready
Your layout stays intact and looks amazing regardless of what size the screen it's being viewed on.
Plug & Play
Anyone can upload a file and click a button to install and that's all it takes to get this theme looking and functioning exactly the way it does in the demo.
Photos Included
All photography seen in the demo comes stocked and loaded directly into your theme. Use what's already there or easily swap in new photos.
Fully Customizable
Upload your logo and call it a day OR take our designs to the next level with full control over icons, images, fonts, colours, page layouts and so much more.
Intuitive Page Builder
Our MP Stacks page builder is easy to use and allows ultimate flexibility with page layouts. Add, delete or reorganize bricks with a click of the mouse.
Gorgeous Design
This theme comes equipped with 13 beautifully designed page layouts that are simply stunning.
Tailored For Churches
Change any section of the page into a widgetized area and show whatever you need using WordPress Widgets.
Sermons
Our SermonGrid add-on was designed to handle archives of any size. Whether you have hundreds or thousands of sermons - we can handle it - and our filter by functionality makes it easy to search by topic, book, speaker or series.
Recurring Events
Almost all churches have events that happen annually, monthly or even weekly. Our custom built EventGrid not only functions like a boss, it looks incredible too!
Staff Profiles
Give each leader, elder or staff member their very own profile page. Use the stunning male and female templates provided or customize them to suit each person individually.
Connect Forms
Worship teams, small groups, bible studies and evangelistic outreaches all need some way of hearing from you. Our connect forms allow you to ask all of the right questions that can easily be answered and submitted right on your website.
No Coding Required
Our page builder plugin is very intuitive and extremely fun to work with. Graphic Designers and 'amateur' web-designers absolutely LOVE the control they gain when using our builder (MP Stacks).
What customers are saying
Here's what real churches are saying about our Church Theme Bundles and how easy it has been for them to manage and bring their church websites to the next level in connecting with their congregations online.
The church theme from @MintPlugins is amazing and so easy to use! What a great way for churches to make a web presence.

— Mike Puddicombe (@mikepudd) November 15, 2015
These plugins are included with this Bundle including Auto-Updates and Full Support (1 year)
Our support team is standing by and ready to help you with any questions you might have regarding Church Plant Theme. Quick and responsive support for one full year upon purchase - is just one click away at support@mintplugins.com